Message from the CEO
Dear fellow shopper,
I wish you could have joined me on my latest trip to El Salvador. I was visiting the San Marcos Free Trade Zone, a tax and tariff free economic zone nuzzled snugly in the hills near the national airport. As we cruised along the Pan American highway, with the Zone's razor wire fences streaming by and the rough scents of dust and diesel mingling in the air, I got to thinking how far you and I and the whole operation had come in such a short time.
Was it only a decade ago that our tax dollars built this little oasis of profit? How it's grown in just ten short years, while real wages fell 50%! I must admit, at that moment, I felt more than a little pride in our accomplishments.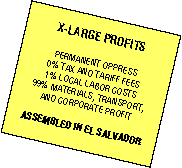 As we slowed down, I snapped out of my reverie. A Salvadoran Army Colonel ushered us from our limo, past his well-armed guards and onto the factory floor. The din was terrific. Hundreds of young women hunched over their sewing machines. Supervisors strode up and down the aisles urging them onward.
It was then, looking down the production line, that I suddenly saw her: 16-year-old Maria, a halo of dust and cotton lint framing her young face and irritating her lungs. Even though it will take her 101 years to earn my monthly salary, I sensed an instant bond between us. For me, she represented all that is valuable about our operation.
Though clearly exhausted, she offered up a shy smile as our eyes met. She spoke warmly of our new product line, all the while straining to assemble it, her nimble fingers darting to and fro under the relentless needle.
It is moments such as these that make this whole business worthwhile.
And so, on behalf of Maria, I'm proud to introduce you to SWEAT GEAR, the latest concept in fashion-conscious sportswear. SWEAT GEAR brings North and South together. While Maria and her co-workers in our Salvadoran sweatshops work around the clock, high above them, jet aircraft speed the latest in fashion wear to YOU.
SWEAT GEAR is YOU. It is your consumer choices that make this global production chain possible. Thank you for helping us turn this economic fantasy into a reality.
In all seriousness,

U. R. Conned
President & CEO, Sweat International